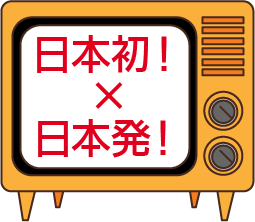 "Japan's First"
direct channel marketing,
"Made in Japan Hospitality Channel,
" turns 180,000 guest rooms throughout Japan into inbound gift shops
Operations started in December at APA Group hotels, our first partnership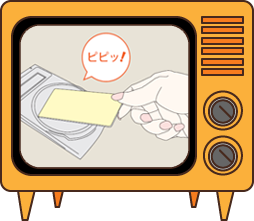 Made in Japan Hospitality Channel
SUNNY SIDE UP Inc. (Headquarters: Shibuya-ku, Tokyo, President: Etsuko Tsugihara, hereinafter "SUNNY SIDE UP") and ABC International Co., Ltd. of the Asahi Broadcasting Group (Headquarters: Chuo-ku, Tokyo; President: Shusaku Inoue) will collaborate with Bridge Motion Tomorrow Co., Ltd. (Headquarters: Shibuya-ku, Tokyo, President: Soichi Shimada) to offer Japan's first inbound media service, which will start in December.

The service is "Made in Japan Hospital Channel," which will use "Japan's first x First in Japan" direct channel marketing to turn the 180,000 hotel rooms throughout Japan into inbound souvenir shops. The first partner will be APA Hotels, which is "the hotel visitors to Japan select the most" (*according to APA Group). The number of foreign tourists visiting Japan reached 13.41 million in 2014 and 19.74 million in 2015. Furthermore, domestic consumption of foreign travelers visiting Japan will also increase to 2.2 trillion yen in 2014 and 3 trillion 477.1 billion yen in 2015. (*According to the Japanese Tourism Bureau)

Amid such circumstances, "Made in Japan Hospitality Channel" uses the time guests stay at the hotel to provide visitors in Japan "opportunities to experience Japan's best products " through quality video content. In addition, it will be a service that will contribute to improve the "hospitality" value of domestic manufacturers and hotels, providing visitors with Japan's best products.
Characteristics of the Made in Japan Hospitality Channel
■「By making guest rooms —the most personal space for tourists— a marketing channel, we realized a method of direct approach to tourists with high purchasing power visiting Japan.
■Through the VOD (*) service used by 95% of Hotel guests, not only can the attractiveness of products be conveyed with multi-language videos, but also by adding a cash register function and a delivery function that allows for payment by device on the spot, it is possible to profit from inbound demand without losing purchasing motivation.
※VOD (Video On Demand) is the abbreviation for a service that allows viewers to watch various video content on-demand. Content delivered in VOD includes not only released movies, already broadcasted programs, but also original releases. VOD service is charged as per-movie charge (pay per view) or unlimited service at a fixed price.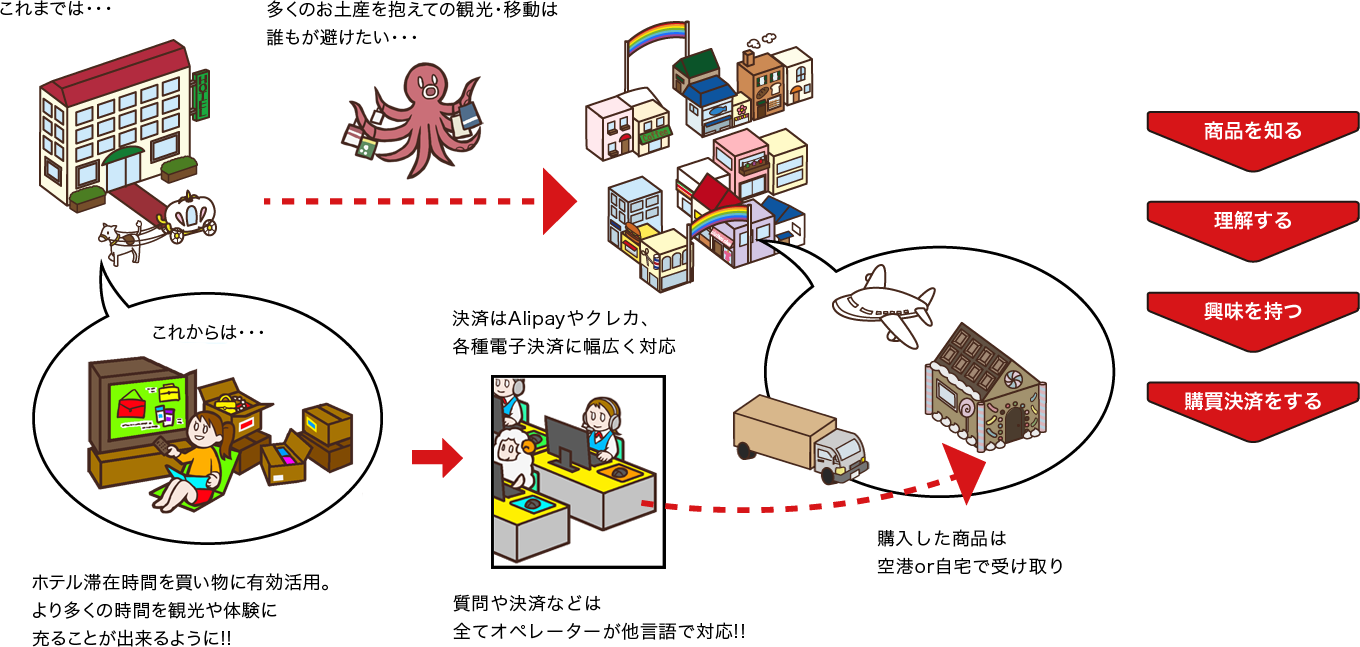 Innovative direct marketing that unifies the marketing process, which had been fragmented until now, in one stop!!
Vision for "Made in Japan Hospitality Channel" Service Expansion
Our initial target are Chinese tourists accounting for one of the largest share of foreign tourists visiting Japan. By year 2020, we loook forward to provide exclusive Chinese casts on our product videos.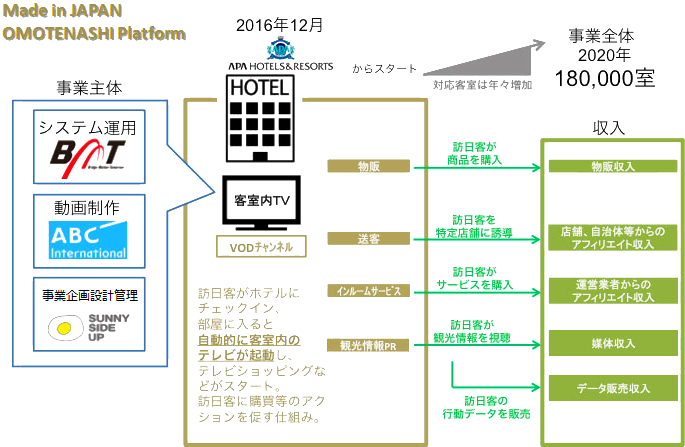 We are planning to look widely for partner Operators
Examples of partners
Makers seeking product sales using this service
Restaurants seeking customers
Management companies of commercial facilities
Municipality and tourist facilities management companies hoping to post advertisements as a PR move aimed at foreign tourists visiting Japan