Multilingual Call Center
The services we offer at our multilingual call center include directly receiving communications from guests, providing operations instructions and Q&A support, and quickly responding to issues and taking the appropriate measures and providing instructions.
*In the future, we plan to provide various services in response to inbound demands.
■Multilingual Call Center Overview
Support 24 hours a day, 365 days a year
English & Chinese (simplified/traditional) are supported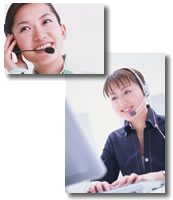 Guest Room Wi-Fi Support Service
We directly assist Hotel guests when there are reports from WiFi users unable to connect.
We remotely reboot the STB and wireless AP in order to isolate any problems.